First I have to say that I have enjoyed cooking my way and that frankly I have only found 2 things I did not absolutely love. The more I cook the more comfortable I have been with adapting different things from different recipes. Just to be clear on this recipe..it would be a SIN to change a thing. It is easy and I will no longer
cook pork chops any other way
. My husband always tried to push off pork chops when I brought it up and who can blame him? I think every pork chop I have ever cooked has been slightly dry…NOT ANYMORE. This recipe is awesome for a work night and the taste is amazing..MAKE THIS TONIGHT!
Pork Chops with Dijon Herb Sauce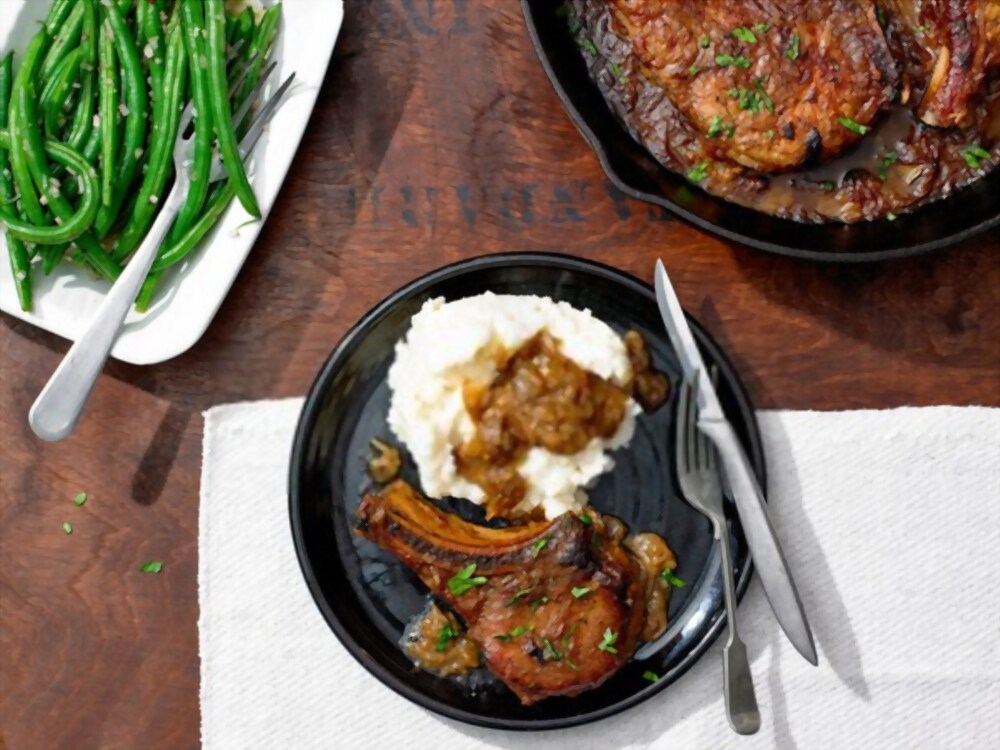 Servings: 4 • Serving Size: 1 chop • Old Points: 4 pts • Points+: 4 pts
Calories: 166.5 • Fat: 9.2 g • Carb: 2.6 g • Fiber: 0.2 g • Protein: 16.4 g
Ingredients:
1 tsp butter
4 pork chops (22 oz with bone, fat removed), 1 inch thick, trim all visible fat
1/2 tsp salt
fresh ground pepper
3 tbsp chopped onion
3/4 cup fat free chicken stock
1 tbsp dijon mustard
2 tbsp chopped, fresh herbs like parsley, chives
Directions:
In a large frying pan heat the butter over moderately low heat. Season pork with salt and pepper.
Raise heat to medium and add the chops to the pan and sauté for 7 minutes. Turn and cook until chops are browned and done to medium, about 7-8 minutes longer. Remove the chops and put in a warm spot.
Add the onion to the pan and cook, stirring, until soft, about 3 minutes. Add the stock and boil until it reduces to 1/2 cup, about 3 minutes. Stir in the mustard, herbs, and 1/8 tsp pepper.Put the chops on a platter and pour the sauce over the meat.