A garden party ( assuming good ideas ) is simply part of the summer! Barbecue, meet friends, chat and forget everyday life: this includes one or the other idea of how to make it unforgettable.
11 great ideas for the garden party
At this point it should not be about ideas for the garden party, which has a certain motto. We're not going to suggest that everyone should appear in carnival costumes, movie stars, or beach outfits, although that would certainly be a great idea. Rather, tips are meant that contribute to the success of the garden party and make it unforgettable.
A tip at the beginning:
Please don't forget to inform the neighbors about the planned garden party! It is not a good idea to keep making noise well into the night. It is better to invite the neighbors along and take the wind out of their sails if they are to inform the public order office quickly.
Out of consideration, however, the music should be turned down in the evening regardless of this.
1. Set up the garden house
How about surprising the guests with a new garden shed ? Wind, a sudden drop in temperature and the onset of rain put an end to any garden party.
Style idea: elegant garden shed instead of a cheap pavilion
Usually a party tent is set up or there is a pavilion and awning to protect yourself from the weather. But your own garden shed is really imaginative! Ideally one that has a canopy in addition to the lounge in the right size.
So the house can also serve as protection from the sun if the party starts in the afternoon. The room inside the house is also suitable as guest accommodation, so that the question of who comes home when and how does not even arise. Garden houses as saviors for the garden party ?
The perfect idea! These little houses can also be used for other purposes: as a playhouse, for example, or as a bungalow for the summer, in case the vacation trip doesn't work out again.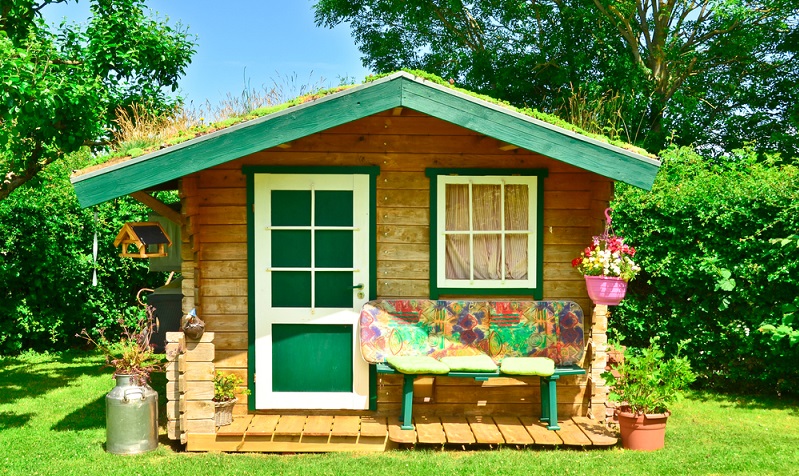 2. Determine the duration of the garden party
Very important: If invitations are sent (also possible via WhatsApp), the approximate duration of the garden party should be mentioned there.
With or without an overnight stay?
And if you are staying overnight: What should be brought along?
For example, if you want to spend the night in the garden house, you might need at least a sleeping bag. The beginning and end of the party belong on the invitation, if children are invited, the party should take place during the day or at least in the early afternoon.
3. Make preparations
The greatest idea for the garden party will not work if no appropriate preparations have been made in the garden .
You should therefore walk through the garden with your eyes open:
Where do weeds have to be plucked quickly, where do the plants testify to severe neglect?
Does the lawn still have to be mowed?
If certain areas of the garden are not to be entered, they should be marked accordingly. It is helpful to simply illuminate the walkable paths with small lanterns or torches; most guests will then not leave the paths marked in this way.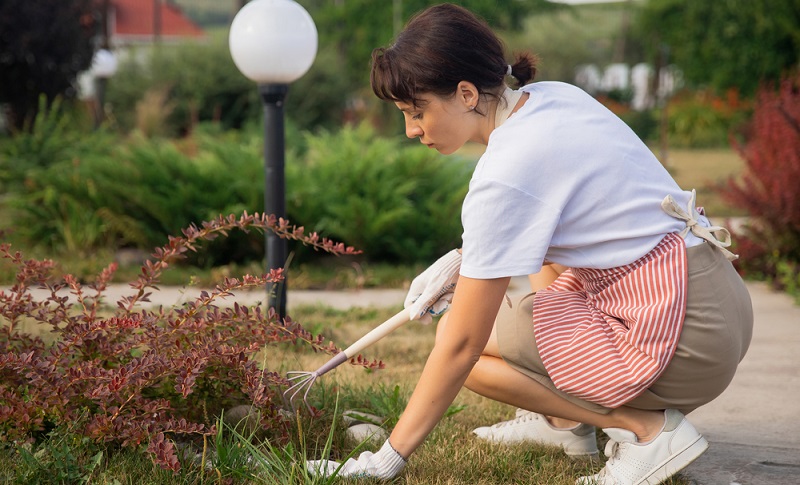 4. Collect great ideas for decoration
Must-have idea: real table decoration
If the garden party is to be more solemn, a tablecloth belongs on the table and bouquets of flowers must be placed on it. Please invest in real flowers, artificial ones look cheap and are also not a good idea from an environmental point of view.
Must-have idea: sustainable crockery and cutlery
Speaking of real: paper plates and plastic cutlery have long since had their day. It is not necessary to bring out the good china and silver cutlery, but at least melamine crockery and everyday cutlery should be given to the guests. Last but not least, it also protects the environment.
Mood idea: bring warmth to the party with this light
The decoration refers, of course, not only on the table, but to the entire garden. Garlands and lanterns are hung up, complemented with honeycomb balls and pompons. There are so many ideas here on how to design the garden individually! The garden decorations do not have to be expensive to be fancy.
In addition to the hanging decorative items
Garden torches,
Tea lights as swimming lights in the garden pond and
small lanterns
used to make the garden a cozy place in the dark.
5. Even more lighting in the garden
An enlightening idea: why shouldn't the garden party be a real festival of lights?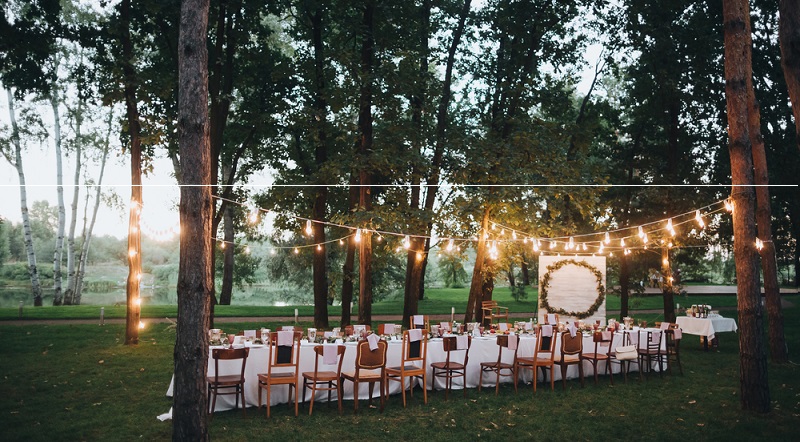 Mood idea: fire bowl for cozy light without a power cable
Lanterns and garden torches are complemented by a fire bowl, and stick bread and marshmallows can be grilled here. Sun glasses store the sunlight during the day and then gently emit it again at dusk. Furthermore, they do not need any extension cables, as they do not require any power supply.
Mood idea: outdoor fireplace & candles
An outdoor fireplace, which is considered to be a real mood maker, can also provide enough light and warmth. Candles also spread a cozy light, but a garden party usually takes place in summer. If it is very dry, there is a risk of a fire breaking out due to unprotected candles with a slight breeze. Therefore, candles should only ever be placed in a glass container.
Tip:
Make sure to use diffuse light when lighting, do not choose direct irradiation!
6. Ideas for great food
Must-have idea: think about something for all tastes
Any list to help you plan a garden party must have the food on it! Whether it will be a large grill buffet or whether a caterer should bring the food is ultimately dependent on the budget.
But it is important that there is something for every guest:
Vegetable skewers for the vegetarians,
Fish and meat for the grill fans,
various sauces and dips,
Salads and even
an ice bowl,
everyone is well served. Tip: It is best to prepare the food the day before and refrigerate it overnight, so the preparations on the day of the garden party are a little less. However, if raw eggs are also to be processed, please rely on a fresh preparation! Otherwise, Salmonella will celebrate with you and the garden party will be unforgettable for other reasons.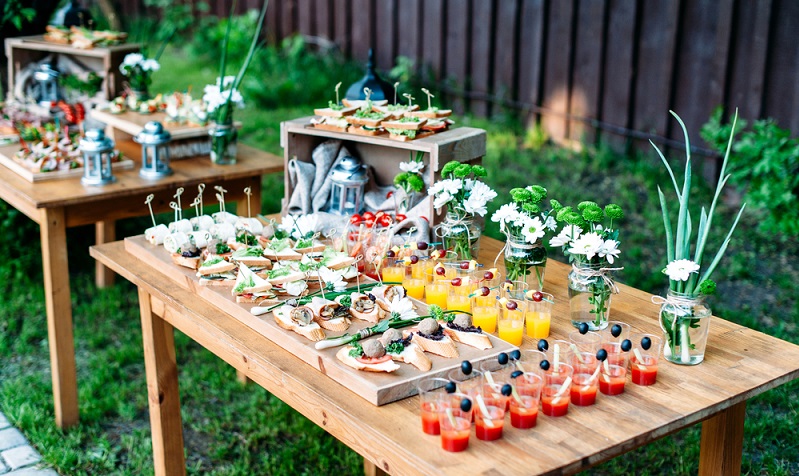 Mood idea: grilling over a fire
How about preparing food over the open fireplace? Here, only the approval of the responsible municipality or city administration has to be obtained, because for such fire places there are locally different requirements to be observed.
7. A sip in the evening …
… shouldn't be the only thing on offer at the barbecue party! Besides alcoholic beverages are especially
Lemonade and
non-alcoholic punch
very popular because they are wonderfully refreshing. In addition, they can be arranged decoratively in a large drink dispenser and each guest can refill their glass as they wish.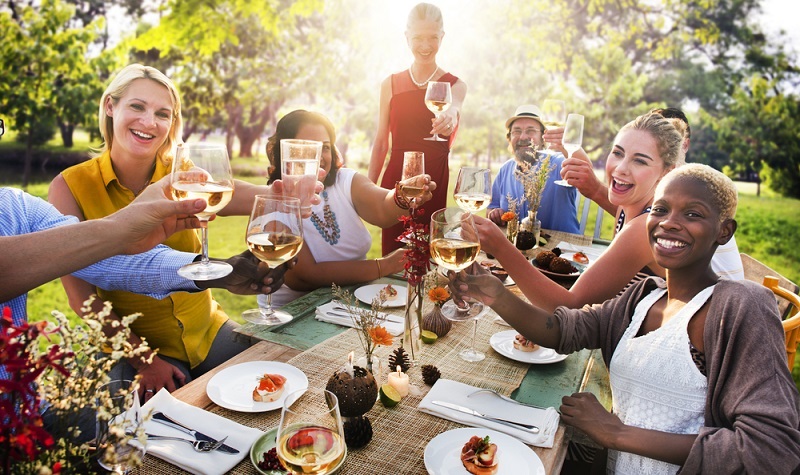 Drink idea: light drinks with and without rotations
"Flavored water" is also a good idea, all you need is cool water and a few pieces of fruit. For those who prefer to offer something alcoholic: How about a small tub filled with ice in which light white wines and beer bottles are placed?
Orga idea: order on commission
Otherwise, ordering on commission may be an option: many beverage stores offer drinks on commission, bottles that have not been opened can then simply be returned. The bottles are usually delivered, the guests can choose what they want to drink.
Style idea: the cocktail bar in the garden house
Or may it be your own cocktail bar? If you want to heed our tip above and get a pretty garden house for the party, you can join in here. We liked "Modell Luise" a lot … Anyone who is familiar with cocktails can offer their guests unforgettable drinks and implement new ideas for cocktails. Non-alcoholic drinks should always be available.
8. Sit comfortably and casually
Style idea: teak furniture instead of beer tent style
The simple beer tent set may be cheap and can be rented. But real furniture is far more stylish . It is worth investing in comfortable garden furniture made of teak wood or wickerwork, for example (which, by the way, can be stored in the summer house in winter!). There is also an extendable table and a few side tables so that all guests can really find a place to put their plates or sit comfortably.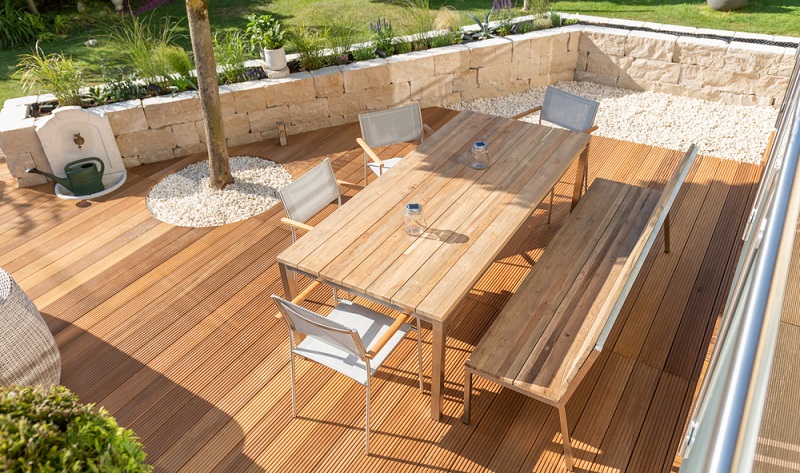 Style idea: the vintage porch swing
To make the garden party a little more individual, hammocks and hanging chairs can also be hung up. These stand some beanbags, a hammock place under the trees and maybe set up some beach chairs: So, guests can also retreat.
9. Provide games and entertainment
Mood idea: games for entertainment and a good mood
What does an unforgettable garden party absolutely need? Correct: the right entertainment! The longer a party in the garden lasts, the more it is necessary to think about the entertainment of the guests.
Party games (pay attention to the age of the guests and game content!) Are a good idea:
Truth or Dare,
Action and guessing games
usually go down well. Tip: If there are children at the party, the games must of course be child-friendly!
Mood idea: outdoor games
For entertainment, there are also trendy board games or outdoor activities such as
Cricket,
Mini golf or
Boules
suitable. With boules you can also bring French charm to the party.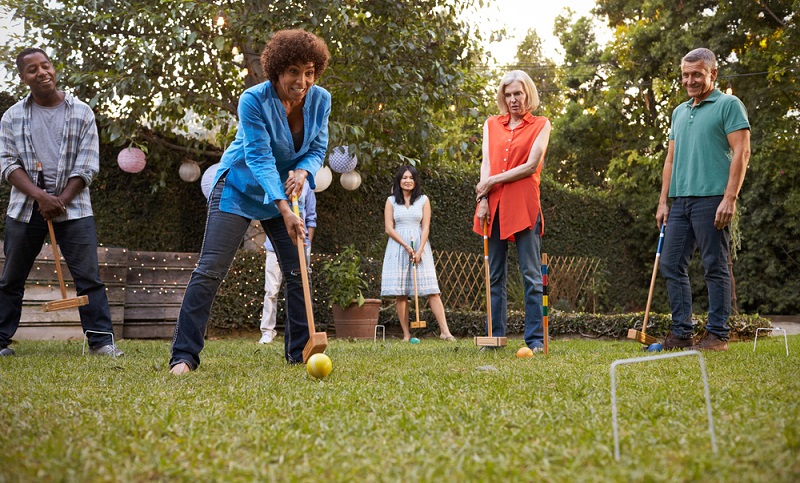 Mood idea: film & video
Tip: A film showing with pictures from vacation is also popular with many guests. But please be careful how the guests react and if you are obviously bored, you must break off the demonstration or look for a good way to get out!
10. Music adds the finishing touches
The right music ensures that the guests feel comfortable – or not. It is therefore important to find music that meets the tastes of as many guests as possible.
Mood tip: karaoke or dancing
However, it is also important: Should the guests only receive background music, is a kind of karaoke party planned or should there also be a dance floor? The later the evening, the sooner music will arrive that guests can sing along to.
Technology tip: Bluetooth speakers
It is easiest if one or the other playlist has already been prepared that only needs to be played. Then Bluetooth speakers can be set up, which please have a good sound and should also be waterproof if near a pool. Now nothing stands in the way of the music with background music!
11. And the children?
A common piece of advice is that the best way to prepare for the garden party is to draw up a checklist . Unfortunately, one important tip is often missing:
What about the kids
From a certain age of the guests, they usually bring their children with them, which is especially true for parties in the afternoon hours. The right idea is required, with which the little guests can be kept busy. Then the parents can relax and take part in the garden party.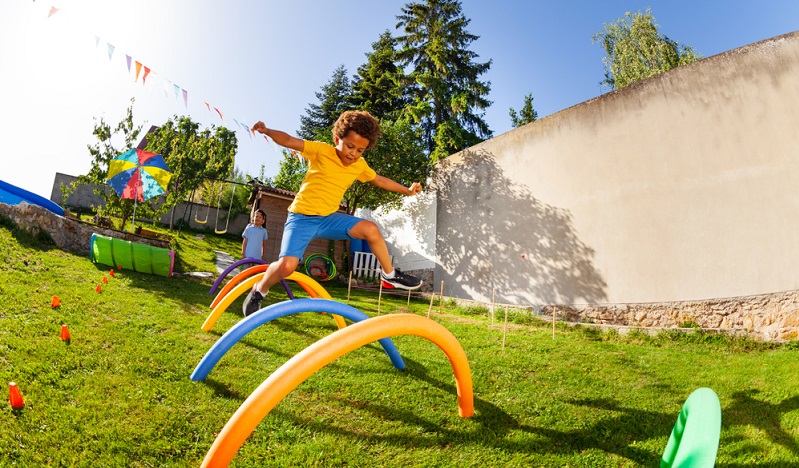 Mood idea: giant jenga & stick bread
A pool may be a good idea in summer, but there is a risk of drowning, especially with small children. Anyone who offers a pool for entertainment must also assign a supervisor to keep an eye on the little guests.
Roasting bread on a stick, moving the lanterns, a few rounds of catching and hiding, maybe a round of giant jenga: it doesn't take much more to satisfy the little ones.
It is also important that the children are not forgotten over food and drinks:
Grilled sausages,
less fried steaks,
Finger food and
children Bowle
make the garden parties of the big ones a hit with children.